A few hours ago GigaOm published an article declaring "Marketing is the next big money sector in technology". In the first paragraph, the author, Ajay Agarwal of Bain Capital Ventures, sets up the future of the industry this way: "For the first time in history, businesses can leverage big data for the benefit of driving marketing insights. We are at the very beginning of this wave, but this fundamental shift will create several multi-billion dollar winners. And a set of technology companies will emerge as the marketing equivalents of Salesforce and SAP."
In New England, and the Boston area in particular, we've seen the big data / analytics and marketing optimization software wave coming for a long time. It's a credit to the innovative regional culture that in many ways favors problem solving for infrastructure and the enterprise, rather than for consumer or public facing products and services. And slowly but surely people have begun to take notice nationally.
One bright star in the Boston software space is HubSpot, which creates business tools for inbound marketing. HubSpot recently poached the CFO from regional heavyweight Akamai, adding to management another big company veteran in preparation for an initial public offering. In the past year, the company also acquired several smaller Boston area software firms to enhance its product offerings, including e-commerce optimization company Performable.
In an interview with Forbes, Hubspot CEO Brian Halligan made this prediction: "Traditional marketing is going to get obliterated in the next ten years. The whole industry is just going to get ripped apart." And in its place, Halligan and the HubSpot crew see the meteoric rise of inbound marketing.
Another Boston area success story is Affinnova, a marketing innovation firm based in Waltham, which was recently named one of the 50 most innovative companies in market research.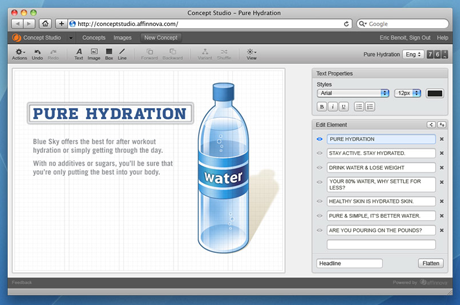 Affinnova's optimization platform, IDDEA, applies the practice of natural selection — as evidenced in biological evolution — to a process of rapidly innovating products and services. IDDEA enables marketing teams to get consumer feedback to a variety of concepts, winnowing out the lesser ones to find the most competitive, top ideas. To enhance its IDDEA platform, this year Affinnova launched Concept Studio, a Web-based application for collaboratively developing new product concepts and designs, which facilitates product innovation by allowing marketing teams to assemble numerous variations on a potential concept. By enabling the exploration of a wide spectrum of ideas, Concept Studio can help users discover genuine breakthroughs that might have otherwise been overlooked. Involution led the design of Concept Studio.
Aside from HubSpot and Affinnova, Boston has a host of big data, analytics, and marketing research and optimization firms, that comprise a new technology ecosystem for this up and coming sector. With this many promising companies, there's little doubt that Boston is hub for the revolution in marketing software, and the industry will never be the same.