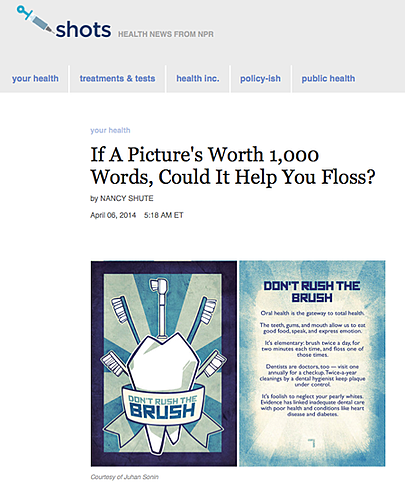 Involution's Health Axioms are grabbing the attention of the health innovation community.
NPR Health Blogger Nancy Shute posted her impressions of the Health Axioms recently in If A Picture's Worth 1,000 Words, Could It Help You Floss?
After getting her own Health Axioms in the mail — with a personal note — Shute called Involution's Juhan Sonin, one of the creative minds behind the deck. She had spread the cards on her desk at work and watched her co-workers' reactions, which ranged from "Health tarot cards!" to "But who are they for?" Not surprisingly, Sonin was frank in saying that the decks reflect a first-release "primordial ooze stage" and that he hopes to get feedback and ideas from a broad audience. Given the number of responses already posted to this one article it's clear that people want to talk about health and want to be heard.
Shute lets the cards speak for themselves by including several images from the deck, summing them up as not Crazy Eights but having their own "geeky charm," even with Manga-style illustrations reminiscent of "Soviet propaganda posters (but in a nice way)"(!) She let colleagues bring them home, reporting both delight (from a 10-year-old) and shrugs of indifference (from teens). She was puzzled by two of the axioms ("Know Your Numbers," "Who Is Your Wingman?") and demonstrates how quickly these two became worth the small effort of reading the card backs.
Read Shute's blog post. Check out the Health Axioms. Let us know your thoughts.
Learn more about/order Health Axioms.
About Involution's Health Design Practice
For almost 10 years, Involution has been building software for health companies of every shape and size, from household names like AstraZeneca and Walgreens, to research leaders like the Personal Genome Project and Partners HealthCare. We also work with the most exciting and progressive health startups. We've made digital healthcare our top focus.