If you tuned in to POTUS giving his State of the Union address
you know that President Obama will continue to hold his ground on the Affordable Care Act. Even those who have been playing close attention to these issues can find it all very confusing, so this week we are offering a few resources to help keep you current.

The Petrie-Flom Center at Harvard Law School Health Law Policy, Biotechnology, and Bioethics aims to provide unbiased analysis of pressing questions facing health policy makers. If you are in the Boston area, next Friday, January 30, you may want to check out the Third Annual Health Law Year in P/Review at Harvard Law School in Cambridge, MA.

While we're on the topic of the ACA, one of its impacts is a small checkbox on your tax form with which you will report your health-insurance-coverage status for 2014. Simple—if you've been covered all year. If you don't yet have coverage, read NPR's Shots blog to find out what you might need to know.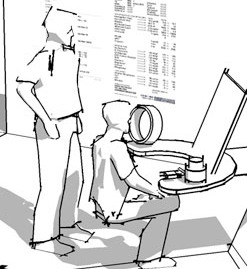 Harvard Medical School is establishing a Department of Biomedical Informatics. Don't know quite what to say? The American Medical Informatics Association (AMIA) defines biomedical informatics as "the interdisciplinary field that studies and pursues the effective uses of biomedical data, information, and knowledge for scientific inquiry, problem solving, and decision making, motivated by efforts to improve human health."
This week's highlights
The Digital Life: Episode 86 follows our new blog series with Challenges in Designing for the Patient Experience.
Wednesday brought Design for the Patient Experience, the first of a three-part blog series. We'll examine the complex problem set contributing to patient experience, design approaches for improving it, and some real world examples from a software and technology perspective of attempts to improve it.
Around the Studio: Getting Things Done gave a peek at how some of us keep track of all we have to do.