This is the third in a series of three articles looking at the future of design for the patient experience. The first article was "Design for the Patient Experience", and the second was "Design for the Patient Experience: Health Axioms".
This week in our final article in this series, we'll examine some real world examples of software improving the patient experience. Each of these applications helps to address long-standing problems in American healthcare delivery from a patient perspective — in particular, lack of knowledge around personal health factors, pricing opacity, and billing confusion.
PatientsLikeMe
The PatientsLikeMe Web application contains a comprehensive registry of patients and their diseases, and is focused on recording and sharing real-world outcomes. PatientsLikeMe enables members to share their data — including condition, treatment, and symptom information — so that they can monitor their health over time and learn from each other. It compliments, but exists outside of the confines of the existing health system and doctor's office, achieving a significant level of engagement with users and expanding the ecosystem of care.
As users of PatientsLikeMe begin to more deeply understand the health issues associated with particular disease states, they can see recurring patterns and take action. Additionally, the data collected from the patient community can help clinical researchers to better understand a disease, ultimately leading to more effective treatments. The platform has about 200,000 users, covers more than 1,500 diseases, and has published more than 40 peer-reviewed research studies.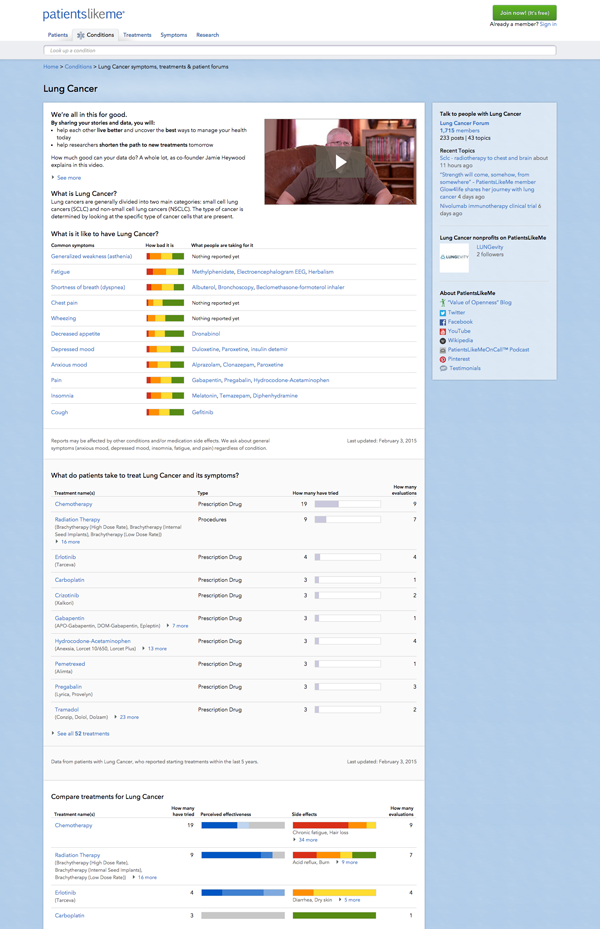 hGraph
hGraph, an open source software tool for visualizing a patient's complete range of health metrics, aggregates health data both on a personal and community level. It provides clinicians with at-a-glance analytics of a patient's overall health, allowing doctors to spot patterns and red flags. hGraph works by comparing a person's health data against targeted health ranges based on factors like age and gender. Metrics that appear red are either lower or higher than the "good health" range. The hScore is an overall, aggregated score of health (1-100) that represents a person's health status, or grade. In this deceptively simple fashion hGraph enables the compilation and display of a considerable amount of information within a limited space.

Like PatientsLikeMe, hGraph encourages patient involvement in their own care, enabling them to better manage conditions and ultimately reduce visits to specialists and hospitals. hGraph is in use at corporate clinics for two Fortune 500 tech companies, and is being prototyped for use by a major retail pharmacy chain and next generation patient portals.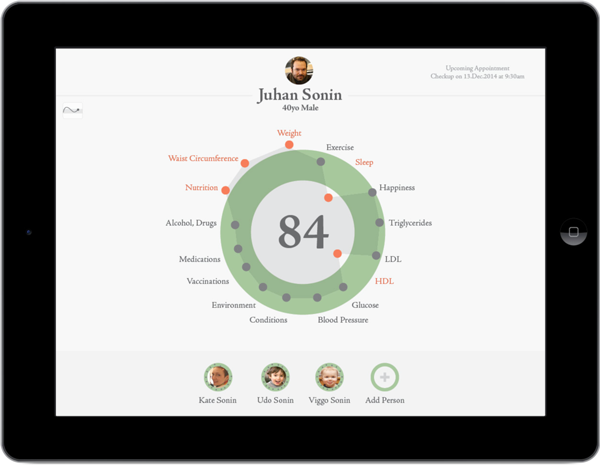 Change Healthcare
The Change Healthcare platform is made up of a suite of tools for educating patients around healthcare costs — including prescriptions, medical procedures, and dental and vision services — with results that are based on an individual's plan, network, and location. As national healthcare costs have risen, so too have the costs that employers, workers, and even the retired and unemployed must bear. Co-pays, deductibles, and out-of-pocket expenses are up. Transparency in pricing enables better decision making, as patients can not be informed consumers if the costs of healthcare services remain hidden.

Change Healthcare's cost lookup tool features pricing matched for the user's location, insurance plan design, and network; a view of total cost, member cost, and plan cost; and quality ratings sourced from public and private data. According to the company, the cost transparency software tool supplies the expected costs for more than 81% of medical services and more than 75% of prescriptions used by its client population.
The New Frontier of Patient Experience
If PatientsLikeMe, hGraph, and the Change Healthcare platform provide prime examples of how software is playing a huge role the patient experience of healthcare, it's worth remembering that these services are, to varying degrees, still in their earliest stages. The current American healthcare system, with its structural roots dating back to the early 20th century, is unwieldy and burdened at best.
If we are to re-balance that system with an equal weight to the patient experience, it will take continued evolution of healthcare policy, mass adoption of these types of software systems, and practical, forward-looking steps like interoperability and standardization of EHR data. It remains unclear how the US will find a way forward in the debate over healthcare, but we should expect the patient experience to play a crucial role.
Designing for Healthcare
Have a healthcare design project you'd like help with? We'd love to hear from you.
Interested in further exploring the topic of design and healthcare? Have a look at some of our case studies, publications, and podcasts:
Case Studies
3M / Coderyte
Mount Sinai Hospital Icahn Institute
Partners HealthCare Gene Insight
Numera Health
Publications
Health Axioms
Inspired EHRs
Podcasts