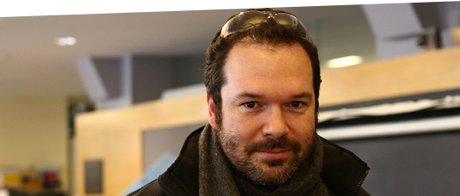 UXCamp Ottawa
November 9-10, 2013
Canadian Museum of Civilization Theatre
Ottawa, Canada
Register
Involution's Creative Director, Juhan Sonin, will be delighting audiences at this year's UXCamp Ottawa.UXCamp Ottawa was created by those and for those who want to learn and share about user experience. This year's event will cover topics like user research, usability, information architecture, interaction design, service design, and just about everything related to the creation of compelling products and experiences.
About Juhan
Juhan Sonin, an emeritus of Apple, NCSA, MIT and MITRE, is the Creative Director of Involution Studios where he is responsible for all product design and service delivery in the shop. Since 2008, Juhan has also been lecturing at MIT on design and rapid prototyping for Course 2.009. In the last eighteen months, Juhan released several pieces of OS services like Staffplan, PainTrackr and hGraph.
Juhan's work has been featured in the New York Times, Newsweek, BBC International, Billboard Magazine and National Public Radio (NPR). His designs have aim to infect United States health policy. Juhan also previously served on the CCHIT Personal Health Records Workgroup and is currently involved with the national electronic health record design standards.