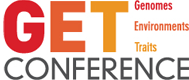 GET Conference
April 30, 2014
8:30 AM to 5:30 PM (EDT)
Ballroom at the Hotel Marlowe
25 Edwin H Land Blvd
Cambridge, MA 02141
Register
Involution Studios is a sponsor of this year's GET Conference in Cambridge, Massachusetts next month. Organized by PersonalGenomes.org, the Conference is planned each year to coincide with World DNA Day, which celebrates the completion of the Human Genome Project in 2003, as well as Watson and Crick's 1953 conclusion that DNA molecules have a 3-D double helix structure.
Topics covered by GET Conferences have included:
• Omics such as personal genomes, microbiomes, immunomes, and metabolomes
• Sensors, including health and environmental sensor technologies and self-tracking
• Policies covering access, sharing, governance, privacy, IP, and so forth
• Data and IT platforms, visualization, modeling, applications, and tools
• Traits and measurement, interpretation, and new products and practices
• Medicine: preventive, predictive, personalized, and participatory
In its fifth year, the GET Conference will bring together leading thinkers to discuss how we measure and understand people and their traits. This event explores the frontiers of understanding about human biology and serves as an annual forum to debate the technical, commercial, and societal impacts.
About PersonalGenomes.org
PersonalGenomes.org is a 501(c)(3) charitable organization whose mission is to make a wide spectrum of human biological information accessible and actionable to increase biological literacy and improve human health. We support the Personal Genome Project and produce the GET Conference.
About Involution's Health Design Practice
For almost 10 years, Involution has been building software for health companies of every shape and size, from household names like AstraZeneca and Walgreens, to research leaders like the Personal Genome Project and Partners HealthCare. We also work with the most exciting and progressive health startups. We've made digital healthcare our top focus.