For Immediate Release
ARLINGTON, MA (U.S.) – February 14, 2014 – Involution Studios Health Axioms: Mantras for patients to change themselves, their clinicians, and the new digital healthcare system.
A pocket-sized deck of 32 illustrated cards, Involution's Health Axioms are intended to provide practical support for good health habits. Each card features a specific action that can help move people in the direction of better health. On the back of each card are essential insights and tips for establishing the habit as a part of daily life.
The Health Axioms start off by asking, "What is one health action you can do now that you can do again tomorrow?" Some suggestions include drinking water, talking a walk, or even reaching out to a trusted friend. From there, the axioms can be used as part of a plan to reach one's health goals.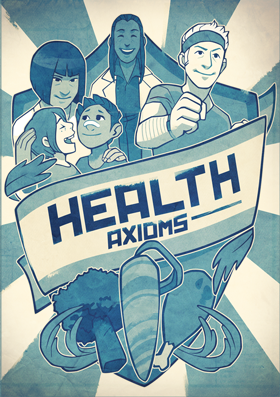 Involution Studios is participating in a global movement to shift the health care system to one of:
Non-invasive personal diagnostics
Highly specialized clinicians that work closely with patients and their families
Self-monitoring, self-empowered patients
Medical practitioners, teachers, and individuals alike can use the Health Axioms to promote health education and awareness. According to Susannah Fox, Digital Health Strategist, "People are thirsty for health advice. They read, search online, and wonder: Am I doing OK? Am I doing the right things for my health? What if, when someone asks the universe (read: the Internet), for health advice, they got back a quick tip, backed by evidence?"
Learn more and order Health Axioms decks.
About Involution Studios
For almost 10 years, Involution Studios has been building software for health companies of every shape and size, from household names like AstraZeneca and Walgreens, to research leaders like the Personal Genome Project and Partners Healthcare, making digital healthcare top focus. For more information please contact info@goinvo.com or +1 617 803 7043.