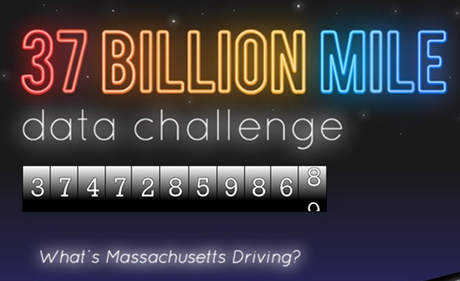 Involution Principal Jon Follett has recently been selected to judge entries in the 37 Billion Mile Data Challenge, sponsored by The Metropolitan Area Planning Council, the Massachusetts Department of Transportation, and the Massachusetts Technology Collaborative. Using data from the Massachusetts Vehicle Census, contest participants will have six weeks to determine why Massachusetts drivers burn up 37 billion miles each year, with the goal of discovering insights that can help the Commonwealth build a more efficient and sustainable transportation system.
"Particularly in the open government movement, information visualization has become an important method for making big data sets understandable, and stimulating discussion about critical issues," says Follett. "Making data accessible helps people to spot patterns and trends and to approach problems in new ways — even getting answers to questions they hadn't thought about before. Interactive designs make it possible to gain deeper insights that can lead to better decision making and more innovative solutions." A seasoned designer, Follett has created data visualizations for AstraZeneca, the Commonwealth of Massachusetts, and Survey Sampling International, among others.
Designers, researchers, analysts, and developers will work individually or in teams to come up with interactive visualizations, maps, infographics, and even games that reveal actionable information from the vehicle-use dataset. Data Challenge entries are due April 19 and the winners will be announced at an awards ceremony on May 1.
About Jon Follett
For nearly two decades Jon has been leading or contributing to Web application design and development for organizations ranging from start-ups to Fortune 500 companies. Jon is a recognized thought leader and internationally published author on the topics of user experience and information design. He recently contributed a chapter, "The Beautiful People: Keeping Users in Mind When Designing Data Collection Methods" to Beautiful Data published by O'Reilly Media, Inc. He has written over 25 articles for industry publications such as UXmatters, Digital Web and A List Apart, and his work has been translated into a variety of languages.