Massachusetts has the dubious distinction of spending the most money on healthcare per person of anywhere in the world. At the Mass Technology Leadership Council healthcare community meeting on Tuesday, April 24, "The Need for Technology Solutions for Providers Under Payment Reform", held at WilmerHale in Waltham, MA, keynote speaker Sarah Iselin, President of the Blue Cross Blue Shield of Massachusetts Foundation, reviewed some of the startling facts and figures related to healthcare coverage and costs, such as this one.
While the initial round of Massachusetts healthcare insurance reform that took place in 2006, focused exclusively on solving the problem of accessibility and insurance coverage and has been largely successful in that respect, health care cost containment remains a huge issue. Independent analysis of Massachusetts health care reform shows that the associated increase in costs amounts to 1.4% of the total state budget. While this figure far from the "train wreck" of skyrocketing health insurance fees touted by some national media like the Wall Street Journal, the fact remains that in this decade our total personal health care expenditures will double; a frightening prospect to say the least.
In 2009, the Special Commission on Payment and Reform, composed of industry and non-profit group representatives, addressed the issue that the current fee-for-service model does not give the proper financial incentives to providers for health care outcomes. The Commission unanimously recommended a framework for global payments made to a group of providers for all care related to a patient. The global payment model is meant to ensure that providers are not only accountable to and coordinated with both each other and the patient, but also rewarded for delivering the right kind of care. Since global payments are tied to patient treatment outcomes, the test intensive, isolated, "defensive medicine" approach that a fee-for-service model can engender, is rendered obsolete.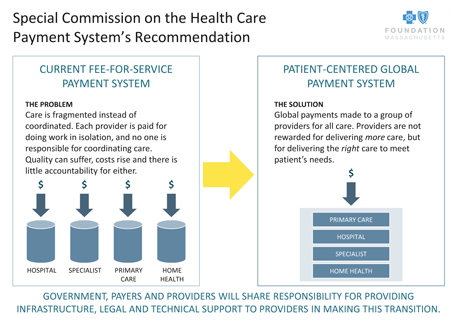 The panel which followed Iselin's presentation on payment reform, was comprised of a diverse mix of technologists, strategists and practitioners from organizations including CA Technologies, Mount Auburn Hospital, Veritas Health Solutions, and Kyruss. In the discussion that ensued, the unifying thread was that an innovative approach to total patient care was soon to become a necessity for both better health outcomes and cost containment.
Dr. Puneet Batra, Chief Data Scientist at Kyruus, a data and analytics startup focused on optimizing resource allocation in healthcare, discussed the benefits of big data analytics increasing both the personalization and accuracy of health care services. Frank Calderaro of CA Technologies, further expanded on the theme of health care personalization, contending that the combination of universal connectivity, mobility, and big data provided an opportunity for providers to accumulate data not just from a visit to the clinic or doctor's office or hospital, but from the person's daily life in a true 360 degree health assessment. Dr. Gary Goldsmith, Medical informatics Specialist for Mount Auburn Hospital addressed the topic of the sea of information that threatened to overwhelm providers, and emphasized the need for efficiencies in data collection and presentation. And Dr. Steven Locke of Veritas Health Solutions talked about using data and treatment efficiencies to facilitate cost reductions via better and earlier diagnosis of chronic illnesses, specifically depression.
Massachusetts continues to be a laboratory for health care reform; if we can combine forward thinking policy initiatives for cost containment with the realization of the potential efficiencies, personalization, and improved outcomes offered by the health care technology industry, we may provide a model worthy of imitation and adoption as Health Reform 2.0 takes shape.