One of my all time favorite books on innovation and the ecosystems that support it is Richard Florida's "The Rise of the Creative Class". Using census and economic data, Florida examines the factors that make Creative Class jobs — in science, engineering, technology, architecture, and the arts — primary drivers for economic growth. He also identifies a number of Creative Class cities that have the right kind of assets — like a strong university system, technological infrastructure, and a tolerant culture — to attract talent and support this kind of economic activity. Boston, of course rates high in Florida's evaluation. And even though Florida published this book in 2002, I think the analysis holds true today: There's no question that Boston is a top-notch Creative Class city. What's most interesting, however, is how Boston, over the past few years, has gained recognition as a world class city for innovation.
A recent study published by The Economist ranked Boston as the 10th most competitive city in the world, out of 120 major cities examined. For the study, the Economist defined competitiveness as "the demonstrated ability to attract capital, businesses, talent and visitors." And last year, Boston ranked number one on the Innovation Cities Index.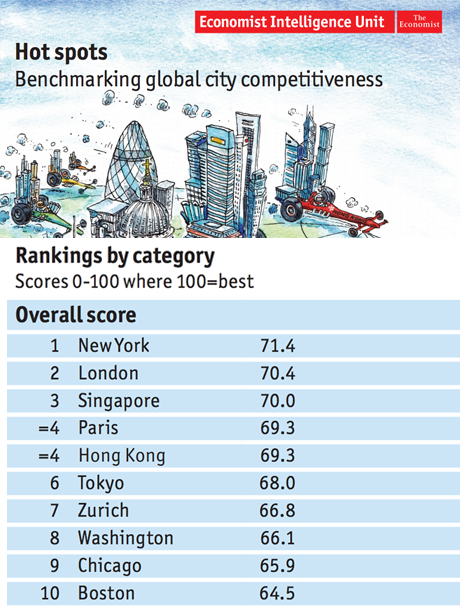 In the most recent issue of Architecture Boston, the Boston Society of Architects (BSA) asked business, research, and design leaders "Why Boston?". Their answers were revealing, citing some of the very same creative assets Florida extols in his book — from the universities, to the culture of openness and support, to the multidisciplinary areas of the city like Kendall Square where the cross-pollination of design and technology can happen.
There are, of course, so many converging factors that are contributing to a Boston's growth as a center of innovation. Here are a few more:
The Start Up Ecosystem
The Boston start-up sector is flourishing. Tech incubators and shared work spaces like MassChallenge, TechStars, and Dogpatch Labs are giving new companies a major boost. I can remember Web Innovators Group meetings, three or four years ago, where you could reasonably expect to meet almost everyone who attended. That is just not the case anymore, which is a good thing, as the event regularly packs the ballroom at the Royal Sonesta Hotel in Cambridge.
Investments and Growth
Boston firms that were start-ups only a few years ago are accelerating into their next phase. It's amazing to see the growth of companies like RunKeeper and Gazelle and Hubspot, which have started to gain national attention. And along with these growing companies are venture capital funds looking to support them. One in particular, Boston based NextView Ventures, is entirely focused on early stage Internet companies.
Acquisitions
Over the past two weeks, acquisitions of and by Boston-based companies have been big news. One particularly significant Boston-related tech acquisition was EMC's all cash deal for application development consultancy Pivotal Labs. If there was any doubt that infrastructure and hardware companies need great software to compete long-term in the big data / analytics marketplace, that should be erased with this purchase. The other recent deal of note was Amazon's acquisition of robo fulfillment company Kiva Systems. Kiva, based in North Reading, Mass., makes robotic systems that reconfigure warehousing to fit with a human picker's needs on a order by order basis, revolutionizing how e-commerce fulfillment is completed.
With a host of enviable creative class assets, strong activity in the start up, investment, and acquisition spaces, and high rankings for competitiveness on a global scale, Boston is fast becoming the place to be for innovators in a variety of industries. Whether you're interested in big data, enterprise and marketing software, healthcare, biotech, or robotics, just to name a few, you can find it in Boston.