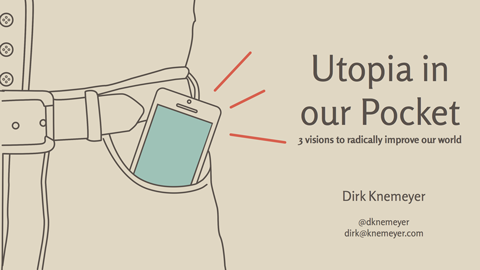 Watch this presentation.
This past March, Involution's Dirk Knemeyer spoke at TEDxDenisonU as part of a series entitled "Real Utopias: From Dreams to Practice."
In "Utopia in our Pocket" Dirk proposes that, thanks to the proliferation of the smartphone, we can start to think about radical changes that will fundamentally shift the way we live for the better. He charges his young audience to consider how they can participate in exploring and leveraging technology for truly meaningful change in our world.
About TEDx
TEDx was created in the spirit of TED's mission, "ideas worth spreading." The program is designed to give communities, organizations and individuals the opportunity to stimulate dialogue through TED-like experiences at the local level.
About Involution Studios
Involution designs and builds exceptional software for innovative and visionary companies. We deploy small and experienced teams to create applications that are highly usable and appropriately beautiful. Our client list includes Apple, AstraZeneca, McAfee, Microsoft, Oracle, PayPal, Shutterfly, and Yahoo. For more information please contact info@goinvo.com or +1 617 803 7043.