The university system is critical to the Innovation Economy in Boston. Not only do schools supply the region with well-trained creative class workers in fields like engineering, science, design, and architecture; they also serve as R&D labs, generating new technology research; and as catalysts for the marketplace of ideas that fuels entrepreneurialism and a growing ecosystem of start-up companies. In addition, universities provide a place for that all important cross-pollination of ideas across industries and practices, which drives ongoing and sometimes unexpected innovation.
Nowhere is this more apparent than at events like "Tech, Drugs and Rock n' Roll" presented by Boston University's Office of Technology Development last week — a great example of the power of the university as catalyst. The TDRR event brought together academic scientists, industry representatives, investors, service providers, and students in a relaxed setting that showcased impressive technologies from the Fraunhofer Institute, and BU's Life Sciences, Physical Sciences, Engineering, and Photonics departments.
From this event and others like it, we can see how the university is rising in importance as a potential "third place" for the creative class — a organization that drives community, that people can rally around, interact with, support, and contribute to in an informal way. While this aspect of the university is far from the barbershop or bowling leagues that urban sociologist Ray Oldenburg referred to in his ground-breaking work on community interaction and democratic engagement "The Great Good Place", this type of gathering ends up serving a similar purpose. Because, while the event headline is focused on technology, the event itself is about community.
As other community and civic organizations decline in membership, it's apparent that the creative class needs new ways to drive engagement. And while the higher education system in the US is by no means a new institution, its place in society is evolving to become a cornerstone of intellectual and entrepreneurial activity. And, like the local bar or cafe, the university can represent a "home away from home" where community can flourish. This evolution of creative community is widespread. In a similar fashion other organizations, such as tech incubators, shared worked spaces, innovation centers, and open studios leverage academic style collegial atmosphere and a desire for research and experimentation, and fuse it with business savvy and entrepreneurial mentorship.
The increasing importance of the university as intellectual community hub has helped to attract research and development labs from major technology corporations such as Google and Microsoft to the Boston area. A recent headline from the Boston Globe, "For Pfizer, Boston's medical labs a lure: Drug giant seeks academia's help" says it all. Pfizer is building the worldwide headquarters of its Centers for Therapeutic Innovation in Boston's Longwood Medical Area to operate in close proximity to the teaching hospitals there.
At Involution, we've long believed that a deep involvement with the higher education system is key to the long-term success of our company. Our engagement with the university system begins with active recruitment of designers and engineers from local and regional schools. Our co-op and apprenticeship programs bring students and recent grads to the studio to work side-by-side with our software team. Juhan Sonin, Involution's Creative Director, teaches product design at MIT. And our open office hours every Thursday, are a way for us to foster the open discussion and cross-pollination of ideas with start-ups and companies of all sizes.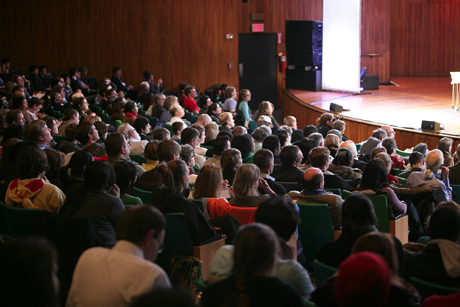 There's no doubt that Boston's Innovation Economy is strengthening the bonds between academic research and the private sector in ways that not many could have predicted just a few years ago. As we transform, bit by bit, from an industrial to a knowledge economy, the mills and factories of yesterday give way to the studios and labs of today, and the civic organizations of the past make way for a future closely tied to the university and the community surrounding it.