Episode Summary
On this episode of The Digital Life we discuss the consequences of the Dallas police using a robot kill a gunman, who had shot and killed five officers, wounding many others.

For some observers, that the robot delivered the explosive that ultimately killed the sniper has been cause for alarm; this is the first time that police have used a robot like this in a deliberately lethal manner. However, unlike the famous dystopian sci-fi movies of our popular culture, such as the Terminator, this robot was not autonomous — It was remote controlled. In fact, the robot model is currently used by police and the military to dispose of bombs. It clearly wasn't designed to be a weapons system, and is not part of a greater strategy for police use, at least for now.

Unsurprisingly this incident contributes to the "killer robot" debate, held at the UN and elsewhere, where policy makers struggle to determine the ethics of battlefield robots. Does this event in Dallas become a precedent, prototyping future use? Robots are particularly good at repetitive, dirty, dangerous jobs. It remains to be seen if a police robots—coupled with ad hoc, tactical, creative problem solving in emergencies—become further involved in such lethal scenarios.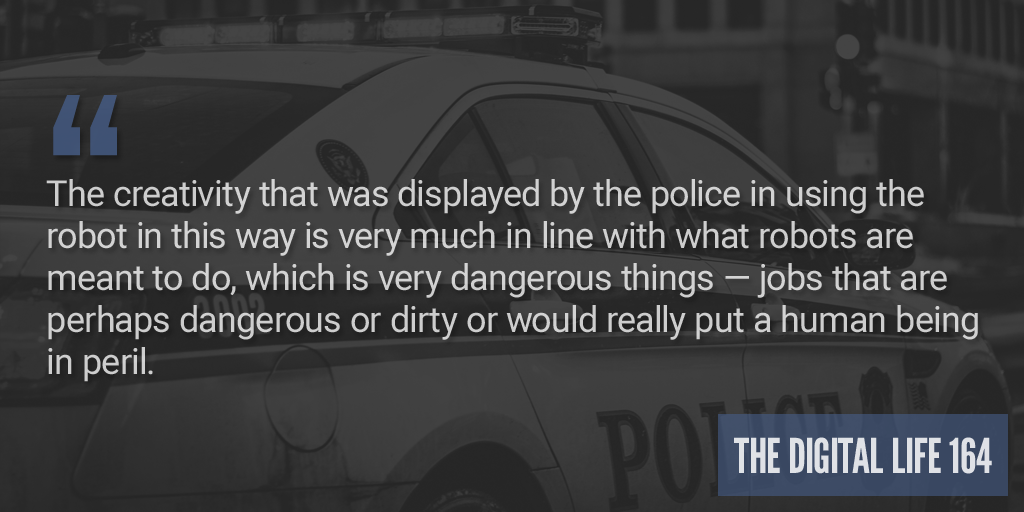 Subscribe to The Digital Life on iTunes and never miss an episode.