How did a workshop with Involution take the Personal Genome Project from "a bunch of ideas" to the creation of the award-winning Open Humans Network?
The Knight News Challenge: Health asked innovators to present solutions that harness the power of data for the health of communities, with a strong focus on civic participation and solution building. Among the seven projects that will share more than $2 million is the Open Humans Network.
The Open Humans Network proposes an online system that helps match people willing to share their health data with researchers who would benefit from access to more information, all with a focus on exploring new standards for open health data.
According to Madeleine Ball PhD, of the Harvard Personal Genome Project (PGP), the Open Humans portal will comprise three components: a personal page that will allow participants to set up their data profile, a public data explorer enabling people to explore and use data compiled from participant profiles, and a set of design guidelines for researchers looking to use a collaborative data sharing model.
Jason Bobe, PGP Executive Director, envisions "health discovery as a collaborative effort through the creation of a portal populated with research studies pre-screened for data-sharing practices, participants willing to share their data, and public data results." Since its inception in 2005, the PGP has promoted a research and discovery model that selects participants who are comfortable with public sharing and the potential for re-identifiability—a practice called "open consent."
The Open Humans Network project will involve collaboration of several studies including:
Harvard Personal Genome Project (George Church, Harvard Medical School)
American Gut (Rob Knight, University of Colorado, Boulder / HHMI)
Flu Near You Research Participants (Rumi Chunara, Boston Children's Hospital / HMS)
Chronic Fatigue Syndrome Study, (Eric Schadt, Mount Sinai School of Medicine)
Mapping the PGP Ecosystem
To reach a goal like the Open Humans Network, the PGP first had to have a clear view of its own organizational functioning. To gain a better focus, they called upon Involution Studios' expertise and objectivity.
In a daylong exploratory workshop, Invo designers helped the PGP staff to map their organization, roles, and objectives. They were able to completely re-conceive their organizational model to separate their member recruitment efforts from the data collection and sequencing, and keeping the focus on their member relationships.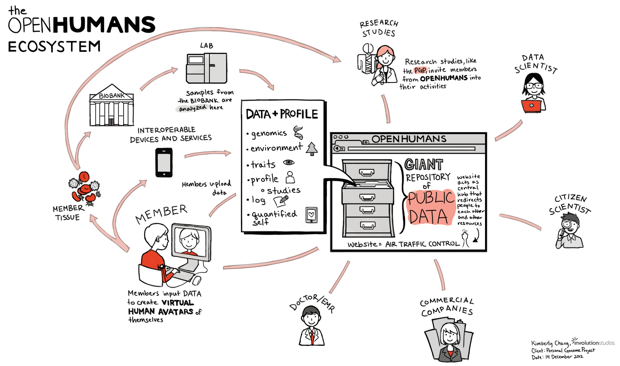 From this work came the idea for OpenHumans.org, a service and website that facilitates third-party researchers and others who can access the PGP database of genomes and medical histories. Members will be able to see how their data is being used to contribute to the advancement of science and medicine. By providing the PGP with the tools and expertise, Involution was able to serve as the catalyst for a new, organizational model that has now garnered the Knight Foundation's recognition.
Learn more about the winners of the Knight News Challenge: Health awards.
About Involution's Health Design Practice
For almost 10 years, Involution has been building software for health companies of every shape and size, from household names like AstraZeneca and Walgreens, to research leaders like the Personal Genome Project and Partners HealthCare. We also work with the most exciting and progressive health startups. We've made digital healthcare our top focus.