Arlington Visual Budget recognized for innovation, value, and impact.
BOSTON, MA – Involution Studios today announced its Arlington Visual Budget has been selected as a finalist in the Best Doing Good Innovation - Product and Most Insightful: Big Data and Analytics Innovations - Product categories for the MITX What's Next Awards. This year MITX combined its annual Innovation and Interactive Awards into a single show recognizing Boston's entire digital ecosystem.
Since 1996 the MITX Award shows have grown to become the largest and most prestigious awards competitions in the country for marketing innovations, celebrating the best creative and technological accomplishments emerging from New England.
"The finalists that emerged from an unprecedented number of submissions received for this year's MITX What's Next Awards demonstrate the creativity and innovation of our region's rich digital ecosystem," says MITX Board Member and Communispace Chief Operating Officer Howard Kogan, who serves as Chairman of the MITX What's Next Awards Advisory Committee. "From startups to large corporations and everything in between, the individuals behind this work continue to raise the bar for the entire digital community."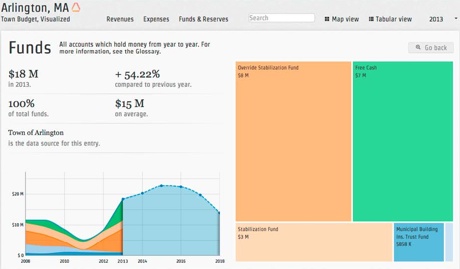 The Visual Budget system converts the town of Arlington's revenues and expenditures to simple graphics and charts that describe Arlington's finances. It also provides definitions for complex budgeting terminology, and includes a tool where residents can input their yearly property tax bill and find out exactly how the town spends their tax dollars. Taxpayers can learn about town revenues, expenses, and funds displayed in both graphical and tabular formats. What's more, the system enables users to provide feedback and ideas, an essential component of empowering citizens with both information and a greater voice in decision-making.
Town Management Analyst Michael Bouton said he was happy to work with Involution's creative team on the project. "It was a blank canvas," Bouton said. "We came in with an idea and the conceptualization of it was them." Involution designers Roger Zhu and Ivan Dilernia donated their time, and the company has made the code for the project available online for other town governments to use. An Arlington resident, Involution's Creative Director Juhan Sonin was excited about the collaboration, saying "It's a part of our civic responsibility as designers to get involved in the design of policy."
Involution Studios will be recognized with the other finalists in the Best Doing Good Innovation - Product and Most Insightful: Big Data and Analytics Innovations - Product categories at a gala awards ceremony traditionally attended by over 1,000 of the region's top interactive marketing and technology professionals. Winners will be announced at a ceremony at the Westin Waterfront Hotel on May 29th.
Purchase tickets for the Awards Ceremony
About Involution Studios
Involution designs and builds exceptional software for innovative and visionary companies. We deploy small and experienced teams to create applications that are highly usable and appropriately beautiful. Our client list includes Apple, AstraZeneca, McAfee, Microsoft, Oracle, PayPal, Shutterfly, and Yahoo. For more information please contact info@goinvo.com or +1 617 803 7043.
About MITX
Established in 1996, MITX — the Massachusetts Innovation & Technology Exchange — is the leading industry organization focused on the web and mobile, bringing together the digital marketing, media and technology community to engage in what's next and how it will impact the marketing and business worlds. Connecting more than 7,500 professionals in New England, MITX is a dynamic community of thought leaders and collaborators in search of insight, education and opportunity. Creator of FutureM, MITX is headquartered in Boston, MA.