At the Microsoft New England Research and Development Center last Wednesday evening, software innovators came together for a series of presentations and conversation about the opportunity for technology and design to effect positive change in healthcare.
The program, "Linking Healthcare, Technology and Design", explored aspects of the changing face of the industry, and how digital solutions could provide the answer to the current crisis in healthcare delivery and patient experience. The event, sponsored and organized by Boston product design consultancy Essential and moderated by Brian Dolan, Editor of MobiHealthNews, featured four speakers: Dr. John Moore from MIT Media Lab's New Media Medicine group; Jeremy Gilbert, Head of Commercial Products for PatientsLikeMe; Bill Hartman, Director of Research at Essential Design; and Dr. Anand Iyer, President and Chief Operating Officer of WellDoc.
The evening began with Dr. John Moore of MIT Media Lab's New Media Medicine group, who spoke about the concept of apprenticeship in medicine — a combination of mentorship, training, and ongoing education, that enables people with chronic diseases to manage them in a more proactive fashion — essentially making the patient the center of care. Apprentices could eventually be qualified to train other new apprentices, which would allow this model to scale over time. Dr. Moore also discussed a number of examples of innovative digital programs developed by or in conjunction with the New Media Medicine group. These included a system for diabetics that provided ongoing positive reinforcement for adhering to diet and lifestyle guidelines, and a program that enabled children to monitor and report on their own asthma.
Next, Jeremy Gilbert, Head of Commercial Products for PatientsLikeMe, spoke about the positive outcomes experienced by users of the health site. Don't call PatientsLikeMe a social network though; This Web application is a comprehensive registry of patients and their diseases, focused on real-world outcomes. PatientsLikeMe enables members to log and share their data — including condition, treatment, and symptom information — so that they can monitor their health over time, and learn from each other.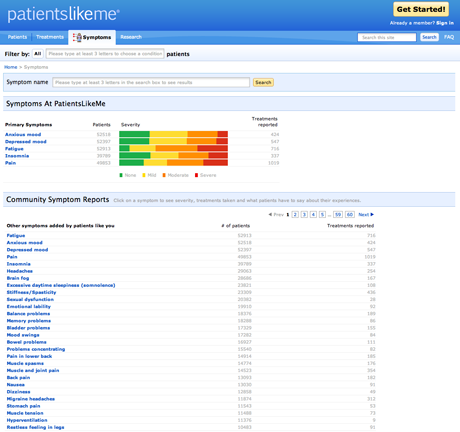 Bill Hartman, Director of Research at Essential Design, spoke about the meaningful use of Electronic Health Records (EHR). The Health Information Technology for Economic and Clinical Health Act, which was a part of the 2009 American Recovery and Reinvestment Act (ARRA) stimulus package, provides hospitals and physicians with incentives for the meaningful use of EHRs. In addition to the intended goals of using certified EHR technology to improve both information exchange and health care quality, there will be some significant indirect benefits from the push for meaningful use, suggested Hartman. Some of these benefits may include an increased emphasis on the overall health care team rather than an individual doctor, ending the myth of doctor "infallibility", and providing the opportunity for health care providers to focus on a more empathetic approach, in contrast with the current system. According to Hartman, the quantified self movement clearly illustrates that people want to both track their data and have conversations with their health care providers about it; successfully achieving meaningful use of EHRs will further the possibility of that these aspects may become reality for many patients.
Dr. Anand Iyer, President of digital health company, WellDoc concluded the presentation portion of the event with a review of his firm's software framework for assisting in the management of chronic disease. WellDoc's technology framework includes a digital patient coach, for counseling and education; secure, cloud-based analytics; and a clinical decision support system for providers. Dr. Iyer envisions a future for digital health, in which doctors prescribe software solutions — like DiabetesManager, WellDoc's flagship software product for diabetes care — much like they do medications today, to influence patient behavior, improve outcomes, and control costs. For this to happen, Dr. Iyer believes that health-related software solutions need to enable positive outcomes, be approved the FDA for patient safety, be available on all platforms, and integrate easily into a doctor's workflow.
In the panel discussion that followed, Brian Dolan asked the speakers to make a prediction in the health care software space for the coming year. All of the panelists agreed that patient-centered health care was coming and that software would play a huge role, but were unwilling to pin a date on the trend taking hold. The panelists also agreed that enabling doctors to focus on patient care rather than working to conform to a complex payment system was a necessity, but is remained unclear how the US could find a way forward in the debate over healthcare for all.