The age of information is upon us, and much has been made of the great improvements to communication, collaboration, and business process efficiency as we transform from an industrial- to a knowledge-based economy. However, despite all the rapid technological changes of the past 20 years, we are still at the very beginnings of the knowledge work era. At the dawn of the industrial age, in the late 1700s and early 1800s, society underwent a similar set of changes. The agrarian life was upended, as the industrial life took hold, and people flocked from the countryside to the booming cities looking for work in newly created factories. These people were faced with whole new ways of working, new expectations, new dangers, and the new tensions as working class and management sorted out the methods for engagement and production that would eventually take hold and slowly evolve over the next 200+ years. In many ways, we are at a similar inflection point in our societal and economic transformation. What this means, at the most basic level, is that we're still figuring out how to work together in an environment that is newly defined, and spans both the virtual and physical worlds. And while there have been many discussions about how best to relate to each other virtually, and manage the tactical aspects of technology — from e-mail to instant messaging to video conferencing to cloud software — there is less discussion about how we structure our agreements, how we collaborate in a larger, strategic sense.
Freelance Nation
For designers and engineers and other innovators, perhaps the first step on this path to the new virtual knowledge work, was exemplified by the birth of freelance nation, which was well-documented by author Daniel Pink in his groundbreaking 2002 book "Free Agent Nation: The Future of Working for Yourself". Knowledge work can be done anywhere and, freed from the confines of geography and the purview of one employer, we may work with anyone we please. And so, the permanent employee model has has been relegated to one possible working arrangement out of many. Now, there are new ways to engage, and knowledge workers are experimenting with, and discovering these — from the "The Hollywood Model" of pure project-based collaboration to other, more long-term methods of partnering. We are no longer beholden to the industrial age forms of working, so why should we be constrained by the business structures that have evolved to make that type of work happen? We shouldn't. But it will, no doubt, take time to get there.
Designing Entrepreneurship
This interest in new ways of working was apparent at the Industrial Designers Society of America (IDSA) 2012 International Conference last week in Boston, where the design of business engagements, and design entrepreneurship in general, were hot topics. Among the keynotes, Stefan Andrén, the CEO of Krown Lab, delivered a presentation, "From Employee to Entrepreneur - A Designer's Leap", in which he described the unique avenues he has pursued in creating business agreements for long-term collaborative benefit. Formerly the design director for the popular Nike+ system, Andrén set out on his own in 2008, founding a manufacturing firm that creates high-end, custom sliding-door hardware, and partnering with start-up companies to design and build new products. These partnerships include royalty-based strategic collaborations Andrén has established with brands such as Atomic Floyd and Phosphor, where he and his team serve as the outsource design department. Such an approach requires an initial upfront investment of time and capital, in contrast to the more typical services model for design consulting, says Andrén. However, the long-term benefits can be substantial. When considering such partnership arrangements, Andrén suggests that it's key to find companies that have long product cycles, and relatively low initial capital investment needed, which can reduce the pressure of time to market.
Robert Brunner, the founder of product design and brand experience studio Ammunition, spoke about his experience partnering with rap pioneer and producer Dr. Dre and Jimmy Iovine, Chairman of Interscope-Geffen-A&M on the category dominating Beats audio headphones. In his talk, "Brand Domination through Partnering: The Beats by Dr. Dre Story" Brunner described how he was able to drive brand and design excellence for Beats through partnering, rather than a typical designer / client relationship. Being considered a partner from the very start of the project enabled Brunner to take on both the risk and reward of the endeavor. According to Brunner, the contracts for such a deal can be complex and the arrangement requires quite a lot of trust on all sides. Still, in this case, the outcome speaks for itself: Beats audio is the number one headphone line in the world, shipping $1B worth of product this year.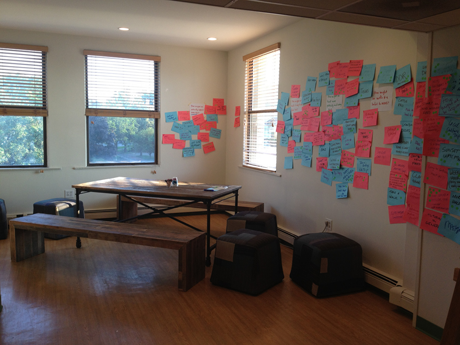 Rethinking Work (Together)
In a previous blog post, "Rethinking Work", I examined some of the management and collaboration techniques that forward-thinking companies are using to drive their organizations. Designing company culture so that independence, responsibility, and drive are core values means less hierarchy and more shared decision-making. A staff of people who sincerely care about what they do, don't have to be managed in a traditional way. This kind of loose knit, highly collaborative, yet autonomous work is receiving marketplace validation. Companies like game developer Valve Software and source code hosting service GitHub adhere to aspects of this organizational model. Establish the end goal, and let the workers choose the path to get there; Each person is a business unit of one. In this manner, an organization can move quickly, as individuals are responsible for their own management. This is not an industrial age company structure, by any means.
Now imagine this mindset applied to agreements between companies, and we can see how the future of knowledge work might evolve — independent entities striving for a common goal and sharing in the rewards of success. So often as designers, engineers, and innovators, we find ourselves in situations where we uncover problems that are completely unrelated to the project for which we're hired. Now perhaps we can imagine agreements with the freedom to allow us to work within organizations where we're most needed. In the end, as Brunner noted in his talk, the legal and contractual details involved in making these engagements work will be complicated. We face the challenge of framing these new business collaborations properly as we forge ahead building new ways of working together. Despite all of the intricacies, however, the opportunity seems limited only by the value that we can bring.