For Immediate Release
BOSTON, MA – April 29, 2013 – Bytes and Atoms, a micro conference exploring the Internet of Things and the interaction between the physical and digital, today announced the speakers for its inaugural program.
Organized by software and emerging technologies design firm Involution Studios and agile development consulting firm Pivotal Labs, and sponsored by O'Reilly Media and IxDA Boston, Bytes and Atoms is a one-of-a-kind event exploring the next great shift in interaction design and celebrating the region's groundbreaking technological accomplishments.
As we move beyond the screen, to connected devices and ubiquitous sensors, the Internet of Things enables us to know ourselves at greater fidelity (for good and bad), to plan our lives and cities better, and to engage with others more quickly and effectively.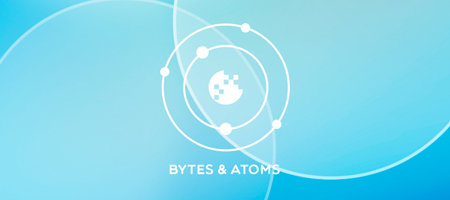 At Bytes and Atoms, through real-world stories and demonstrations, learn how people are combining data and physical products: From using sensors in retail spaces for generating customer interaction data and analytics, to measuring building performance for energy and occupancy, to controlling physical environments through gestural interaction.
Speakers will include:
Erik Dahl, Creative Director and Scott Sullivan, UX Designer, Involution Studios Columbus
Erin Rae Hoffer, Senior Industry Programs Manager, Autodesk
Laurence Koret, IT Manager, Pivotal Labs
Juhan Sonin, Creative Director, Involution Studios
Scott Stropkay, Partner, Essential Design
Join designers, engineers, technologists, and artists at Brightcove headquarters in Boston, Massachusetts on May 21, 2013, 6 PM – 9 PM for an evening of presentations and discussion as we explore the revolution at the intersection of the digital and physical.
For more information regarding Bytes and Atoms, including registration options, please visit www.bytesandatoms.com.
About Involution Studios
Involution designs and builds exceptional software for innovative and visionary companies. We deploy small and experienced teams to create applications that are highly usable and appropriately beautiful. Our client list includes Apple, AstraZeneca, McAfee, Microsoft, Oracle, PayPal, Shutterfly, and Yahoo.
Media Contact
For more information please contact Jon Follett at info@goinvo.com or 617-803-7043.