This series on technology in Africa is written by Involution friends and emerging markets experts Niti Bhan and Muchiri Nyaggah.
I reach out
Gather the dust in my hands
Let it sift through my fingers slowly
It is barely moist
Barely there
Yet, yes, it is there
- A Quiet Storm is Brewing (Barely there) by Will Mworia
Less than a year ago Will Mworia founded Afrinnovator to showcase and celebrate software, startups and apps by Africans, for Africans. So inspired was he by the potential of this sector that he was moved to write the above poem as his contribution to the about page of the website. He shares his thoughts with us:
"I was convinced that there is a story to be told about the inventiveness and innovative spirit that exists, of the strides being made by Africans in Africa especially in tech plus I'm convinced tech, the web, have great potential for leapfrogging Africa. At the time I wrote that poem I had a great sense of hope and assurance that there was a bright future for the continent. That though most of what we see is bit negative, there's a generation that's not fitting the mould, that's determined to make a better future for themselves and the continent."
Where once the idea of technology for young Africans meant bright green laptops in the hands of smiling schoolchildren, young people today are far more ambitious in their dreams. Almost half the population in most African countries is between 15 and 25 - a demographic dividend that is rapidly evolving into a digital one, as mobile phones become ever more affordable and open platforms accessible.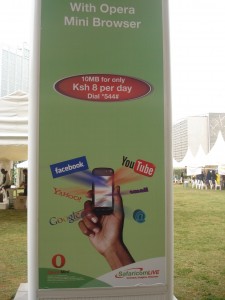 "Africa's youth are at the vanguard of this fundamental shift in expectation of a connected future. They're bold, they're hungry, they're ambitious - they know that a decent education and decent grades offer no guarantee of long-term employment," says Wambura Kimunyu, Chief eXperience Officer at Cellulant, one of East Africa's leading mobile commerce companies. "They're coming of age in an era where the only opportunities available to you are the ones you make yourself."
Leading the change are the digital class - a much smaller subgroup who have as much access to leading edge technological tools as their peers around the globe. They're the ones who gather for Mobile Monday nights or fireside chats to listen to speakers such as Larry Wall, creator of Perl. They've banded together to form a loosely knit alliance of tech incubators and open collaboration spaces located in Kenya, Uganda, Cameroon, Senegal, Ghana and Nigeria. They're seeing the opportunities on the web as more and more Africans are going online for the first time by using their mobile phones. Mikul Shah, a Nairobi based entrepreneur, is already in the black with EatOut.co.ke, an online restaurant guide that offers table reservations as part of the service while South African media giant Naspers is backing the newly launched small business marketplace Dealfish in both East and West Africa.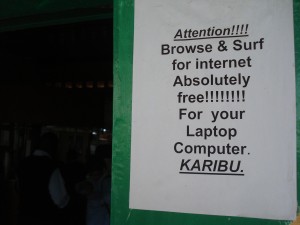 A quiet storm is indeed brewing among Sub Saharan Africa's tech community; aspiring to reach global visibility by entering big name competitions or with the backing of venture capital. The majority of submissions for the recent World Bank Global Apps Challenge were from Africa while a Kenyan startup won the Million dollar Nokia Growth Economy Venture Challenge in 2010.
The downside of this great migration online is the cost and capacity. Internet access for small businesses and startups is still prohibitive enough to be the single largest overhead cost to the company. Governments are beginning to roll out wireline and wireless infrastructure or making it possible for the private sector to do so profitably. By implementing these policies, African governments have laid, or are beginning to lay, the groundwork for private enterprise to set up the equivalent of 'Bangalores' across the continent. It may take years before proper IT parks are completed and commissioned, but the progress being made in the meantime isn't waiting for this to happen. Businesses like consumer portals, mobile commerce and business process outsourcing (BPO) are already up and running, particularly to service the European continent due to convenient time zones, language capabilities and of course, very affordable labour costs.
The advent of undersea cables directly linking even small landlocked nations like Botswana to high speed fibre optics means costs are halving as nations come online at top speed. Until now, Botswana had been dependent on expensive and slow satellite internet; now they see opportunities for e-governance policies to be implemented as well as benefits to education and the economy. For African nations, e-governance allows them to deliver services via technology into places where setting up physical offices would be difficult. In fact, building physical administrative infrastructure is so difficult and expensive that e-government has become attractive enough for states such as Kenya to assign high level personnel and resources to the task.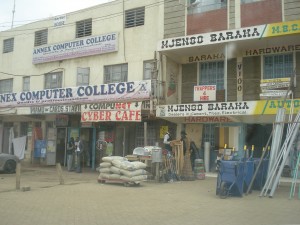 Since January 2009, Kenya's revenue authority required certain business tax returns to be completed online. This year, personal tax returns will also be submitted online. 80% of Uganda's tax collections were electronically filed by late 2010, while Tanzania and Rwanda are in various stages of implementing similar initiatives. Five years ago, this approach would have been unfeasible due to restrictive cost and poor penetration of telecom services. The technology and the infrastructure it depends on have reached the point where it now allows platforms like these to be viable. The Ethiopian commodities exchange, for example, offers up-to-date information by SMS or "Interactive Voice Receiver" (IVR) to all account holders. It's this kind of growth in telecom infrastructure that has the potential to benefit the ICT sector the most.
As Africans aspire for tech advancement, they are creating solutions and opportunites in advance of the infrastructure or resource availability sometimes deemed necessary. From a paperless government to exporting technology, Africa is only a few hops away from achieving its ambitions of communications tech maturity. Ultimately, the "Bangalore" of Africa that stakes a place on the world map may not be any single location but a wider community of individuals and businesses who refuse to allow lack of policies or resources to hold them back from achieving their wildest dreams.
Niti Bhan and Muchiri Nyaggah collaborate to offer real world expertise and a holistic understanding of the emerging markets of Africa. Semacraft Consulting Group focuses on understanding the mindset and customer behaviour, market segmentation and archetypes that drive effective product and service concept design as well as the supporting business and transaction models.